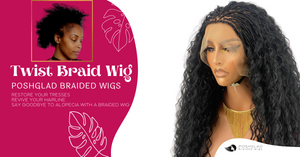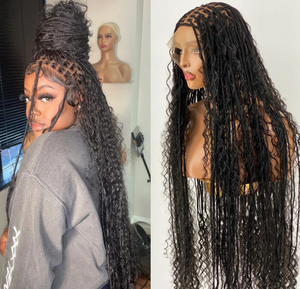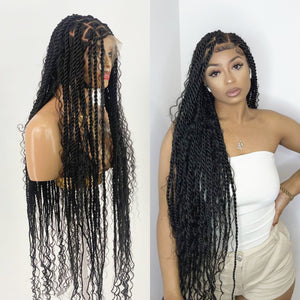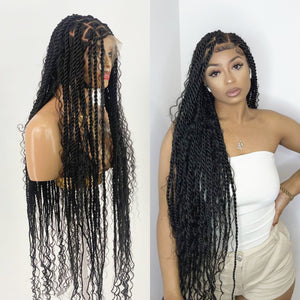 Twist Braid Wig.
Black Culture
Black Hairdo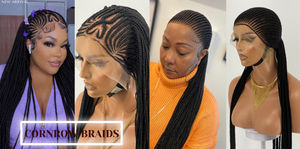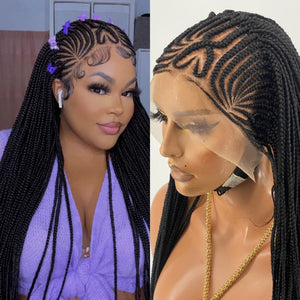 Cornrow Braid Wig
Look Beautiful Always
Shop As Low As $100 - $145
FRONTAL BRAID WIGS (CUSTOMIZABLE)
HD FULL LACE BRAIDED WIGS (CUSTOMIZABLE)
CLOSURE BRAID WIGS (CUSTOMIZABLE)
FULL LACE BRAIDED WIGS (CUSTOMIZABLE)
LOCS BRAID WIGS (CUSTOMIZABLE)
BOHEMIAN BRAIDED WIGS (100% HUMAN HAIR)
PREMIUM QUALITY WIGS ★★★★★
Natural, Glueless & Scalp-looking
We are Americas No.1 Braided Wigs Company. We have the perfect braided wigs for any occasion, whether you are planning a big meeting in town, a wedding, party, a date or just catching up with friends and family - we have the perfect braided wigs for you vanity style.
OUR FACTORY VIDEO 👇
Braided Wig Producer
A Black-Owned Company.
We produce, customize and supply braided wigs worldwide
Kindly take a minute to give us feedback about our product and your overall shopping experience. Our reviews update every day. When you give us a video or photo review, it is automatically published here. To leave a photo or video review, follow the review request email we'll send you after receiving your wig, or click on the wig you purchased; at the bottom, you will see the 'WRITE A REVIEW BUTTON' click it and leave a photo or video review.
★★★★★

The wig is beautiful. Received so many compliments

Anita F

Detroit, MI
★★★★★

I got the color 27 waist length cap size extra small wig can be worn glueless slightly heavy because I have a small head but other den dat it's a 10 out of 10 cnt wait to order again soon.

DAKOTA J

Chicago, IL
★★★★★

This wig is so pretty and super lightweight. ZERO COMPLAINTS!

Ashley H

Wood Dale, IL
★★★★★

Wig jus arrived and I love it waist length long and pretty low maintenance throw on and go

Kota J

Chicago, IL
★★★★★

This is my 2nd wig purchase, I absolutely love their wigs! I will again be a repeat customer! I've received tons of compliments and have given a lot of referrals to this company.

Glenda G

Dolton, IL
★★★★★

I love my experience with the order process. I gotten good compliments on my hair so far.

Tre'niya R.

Virginia Beach, VA
★★★★★

When I say this wig is everything. Whoever braided this wig is the bomb. This wig is so neat, beautifully braided and the color is great. You guys get 10 stars 🌟 from me.

Shaunda S

Summerville, SC
★★★★★

Fatime B

Bronx, NY
★★★★★

I loved my braided wig the braids are nice a d neat. I just wish my tag not sewin into my hair line in the back.

Nickeya C

Lauderhill, FL
★★★★★

This is my 3rd time buying a wig with you all I really love how this wig is not heavy and I can style it many ways.





Jamelia P

Cincinnati, OH
★★★★★

Vanessa J.

Brooklyn, NY
★★★★★

This braided wig is amazing! I'm in the process of another purchase from them which would be my 4th so far. I'm officially addicted to this company and their braided wigs…..they are theeeeee best in the game hands down and smell so good right out the box. Shipping was super fast like always even after my added customizations.

Laquanda B.

Middleburg, FL
★★★★★

I absolutely love this unit, it looks so natural, No one thought it was a wig, I will definitely be purchasing from this company again, Thank you so much ❤️

Joyce G

Antioch, TN
★★★★★

I love my hair it's beautiful and the color is so pretty it's a light burgundy brown color perfect for the summer and fall . I'm definitely ordering again

Joy B

Chicago, IL
★★★★★

I love the quality of the wig. It looks natural after install. My hair technician Kawanza Harris of Dallas absolutely loves it & has referred several clients to you including myself.

Kimberly R.

DeSoto, TX
★★★★★

Skillfully and beautifully made!

Tashara D

Raleigh, NC
★★★★★

Very neat, flat and professionally done. Hip is past butt and I'm 5'7. Will be ordering more soon

Farrah W

Linthicum Heights, MD
★★★★★

I got so many compliments from this wig and I installed it myself it was easy to work with great product 😌

Lydia P

Brooklyn, NY
★★★★★

I absolutely love this unit! I love how neat and full the braids are! I also love the color, wasn't sure if it would match my skin color, it does and very well. I have purchased many braided wigs from this company and have always been satisfied. I'd like to try the faux locs, but no one has gotten back to me on how to care for them.

Shelly A.

Manchester, CT
ABOUT US
We are America's № 1 black-owned braided wig company. We are located in Lewes, Delaware, and Lagos, Nigeria. When you buy any of our products, you purchase the original and finest quality braided wigs on the market. The best craft women make our wigs from the people who started braided hairstyles in Africa. In addition, you are keeping the money within the black community that will eventually support other black-owned businesses, colleges, and charities long term. 
Quote from Angelique Kidjo - Who knows black women's hair better than a black woman? Nobody but a black woman. Our story is a story of all black women's hair struggle, and we are here to make a lasting difference. Before we proceed, study shows that braiding on your natural hair, weave, or even tight buns and ponytails can cause receding hairline, irreversible hair loss called traction alopecia (baldness), or permanent hair loss. Don't go bald with tight painful braids; pick a poshglad braided wig, slay that thing on and go.
OUR STORY
It all started in 2017 when I, the CEO of Poshglad Braided Wigs®, got laid off from a job I'd held and dedicated my life to for ten years. The CEO of the company that I worked for suddenly passed away, and his family took over the business. They started laying people off, unfortunately, I was among the people that got laid off. It was a very dark time in my life, but I didn't give up. I did what most people would do; I sent out my resume to many job recruiters for a new job. One day, I got an impromptu call from a friend who is a recruiter. She told me that I should get ready for a next day job interview with a Fortune 500 company. I couldn't believe it. I was like, wait, what! Fortune 500? and the interview date is tomorrow? That's too near, and besides i wasn't even thinking of a fortune 500 company hiring me. I was baffled. Remind you, I had stayed home for almost six months without a job, and my hair was wack; I had new under-growth sticking out and no boyfriend at the time either. Quickly! I went to a braided hair salon near me to get my hair braided. Because it was the weekend, the salon was packed, so I waited for 3 hours for the braider to finish attending to her customer before my turn. It took her more than 8 hours to complete a knotless braid on my natural hair; by the time we finished, it was past midnight, and my body hurt from sitting down for long hours. The next day I woke up with a terrible migraine that felt like my head was about to fall off. I couldn't attend the job interview looking like I'm upset, because when i smiled; I could feel the pain. Long story short, I missed the job interview, and my head hurt for few days after that. In addition to my demise, I had a dinner date with my now-husband the following weekend, so I took off the painful braids and bought a weavon and a laser hair remover from aliexpress; yep, you heard me right, aliexpress. I was scammed the first time. The second time the wig came through, it was nothing like the picture. It smelled like burnt tires and it looked like a dirty black mop. The laser hair remover was sub-standard and it clearly states on the Chinese written manual that it might work differently for black skin. Can you believe that? I thought it was a joke, so I tried it on my arm and thighs, and it left multiple burn scars on my arm and thighs. I couldn't go on my date looking like a spotted dalmatian either; that's when the light bulb moment dawned on me that many black women are probably facing similar problems like I was facing, and I have to come up with a solution. My solution to our hair care challenge is to start a company that produces handmade luxury braided wigs. This approach will help women of color change their hairstyle whenever they want without the trauma of sitting down in a salon for long hours or getting scammed by a Chinese company. That's how Poshglad Braided Wigs® was born.
Poshglad Braided Wigs® was borne out of a shared desire to solve many problems black women face in our Eurocentric beauty standard society. In our research for a solution to the issues mentioned earlier, we find that most people selling black women's hair products aren't even black. So they sell us whatever they think is suitable for us, even if it's low-grade cancer-causing quality or outrightly scammy just like they did to me on aliexpress. We also find that they don't come up with new styles or product variations for black women, they make a few primary products, and that's it. They also don't design their website with suitable product options and information about the product. So for that reason, we took it upon ourselves as a black-owned business to solve black women's hair care problems. Who can better understand black women's issues if not a black woman?
Future plans include:
Poshglad glad hair extensions.

Poshglad human hair.

Poshglad lotion with shea butter.

Poshglad natural black soap.

Poshglad scented soap.

Poshglad fragrance.

Poshglad fashion house for black models.
Our company was founded in Lagos, Nigeria, in 2016 and incorporated in the United States in 2019. So we are an African-American company.
Why do we do what we do? We do what we do because we love it, and we also understand that no one can do it better than us. We know your hair challenges, and we have a solution to bad-hair days. Like all the new customers, turn friends, we encourage black women to embrace their blackness, and we are here to make them proud.
We are the best in the braided wig industry; nobody comes close to us. We are like the Louis Vuitton of braided wigs, and we know it.
In addition to solving lousy hair days, our company also supports black children worldwide through Bridish foundation. For every single wig you buy from us, you help our 200 black staff support their families, send their children to school, and provide clean water and shelter.
I want to end this with an old African parable that says, an ant may be tiny, but if they unite and form a colony, they could take down a lion or an elephant. That means that if we support each other, we will be a formidable force to reckon with, and if we divide, we all fall apart.
Poshglad Braided Wigs belongs to you, so let's support each other to make black women look posh again.